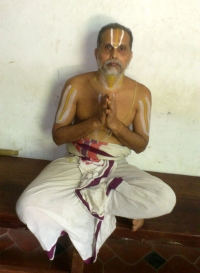 Sri Esayanur Swami

Sri Esayanur Kandadai Vijayaraghavachariar Sridhara Satagopachariar Swami is one of the Aaradhakars at Sri Ahobila Matam. He is an excellent upanyasakar and a prolific writer and has done kalakshepam under Sri U Ve Purisai Nadadur SriBhashya Simhasanam Krishnamarya MahaDesikan, grandson of Sri Injimedu Azhagiyasingar. Based on our humble request Srimad 45th Azhagiyasingar directed Sri Esaiyanur swamy to give upanyasam on Sri Ramanusa Nootrandhadhi. As per Sri Niyamanam, we started the series of Sri Ramanuja Nootrandhaadhi.

You can listen to the upanyasam live from any part of the world since we send you a US Conference Bridge to connect to. Sishyas in India nowadays have VOIP facilities and can also listen to the upanyasam live. If you are unable to attend at that specific time, you can listen to the recording below.




We are working to move all our media content to cloud based streaming for a better experience. Pl check back later !!