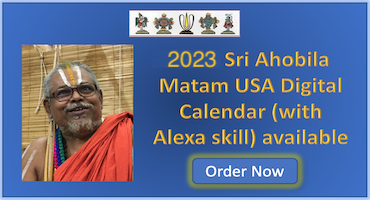 45th Srimad Azhagiyasingar
FOUNDER OF SRI AHOBILA MUTT, USA INC.
1926 - 2013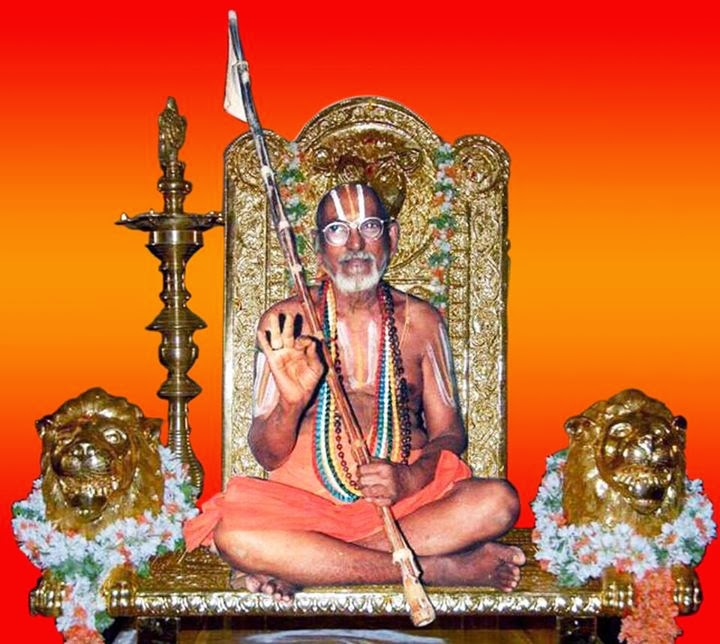 His Holiness, the 45th Jeer of Sri Ahobila Muth, Srimathe Sri Lakshminrisimha Divya Paduka Sevaka Srivan Satagopa Sri Narayana Yathindra Maha Desikan, ascended to Paramapadham at 12:05 AM Indian Time, Sunday May 19th 2013.
Listen to Sri Mukundan Swamy's upanyasam on Gunanubhavams of 45th Srimad Azhagiyasingar ...
Read a tribute by Sri Varadhachari Sadagopan here...
Read his complete vaibhavam here ...
Text
Sri Matam Publications
Books
Divya Prabhandam (1st 1000)
Divya Prabhandam (2nd 1000)
Divya Prabhandam (3rd 1000)
Divya Prabhandam (4th 1000)
All 4000 in zip format
Sri Desika Prabhandam
Malola Vihar
Malola Vihar is an educational outreach service provided by Sri Ahobila Mutt in USA. It provides classes in traditional scripture such as Srimad Ramayanam, Harivamsam, Mahabharata and Tiruppavai.
Classes such as those on Harivamsam and Mahabharata are geared towards the general audience interested in gaining a knowledge of our scripture. Classes such as those on Srimad Ramayanam and Tiruppavai emphasize Dharma Sastram and Srivaishnava Siddhantam.
These classes are held weekly by telephone. To join one of these classes, please contact Jagan_Bharadwaj@yahoo.com.
Blogs
We are launching this new series to convey basic information on our sampradayam in easy to understand format. Check out the postings:
1-NOV-2010 - Three Minutes - ASR (updated)
26-MAY-2010 - Sri Bhashyapuram - Sadagopan
16-MAY-2010 - Akshaya Thriteeyai - Sadagopan