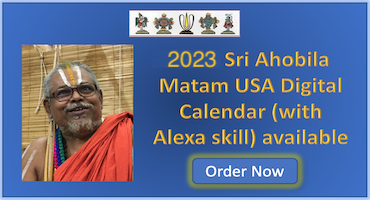 45th Srimad Azhagiyasingar
FOUNDER OF SRI AHOBILA MUTT, USA INC.
1926 - 2013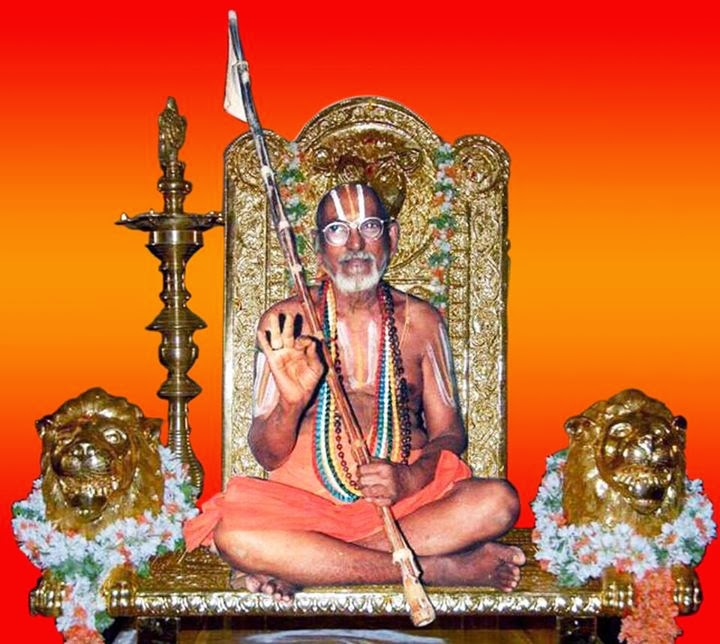 His Holiness, the 45th Jeer of Sri Ahobila Muth, Srimathe Sri Lakshminrisimha Divya Paduka Sevaka Srivan Satagopa Sri Narayana Yathindra Maha Desikan, ascended to Paramapadham at 12:05 AM Indian Time, Sunday May 19th 2013.
Listen to Sri Mukundan Swamy's upanyasam on Gunanubhavams of 45th Srimad Azhagiyasingar ...
Read a tribute by Sri Varadhachari Sadagopan here...
Read his complete vaibhavam here ...
Malola Vihar
Malola Vihar is an educational outreach service provided by Sri Ahobila Mutt,USA for children and adults living in the US. There are several classes being held weekly by video conference. Currently Sri Ahobila Matam is conducting classes for children for Basics of Srivaishnavism, Vedham, Divya Prabhandam, Desikar Sthothrams, Samithadhaanam / Sandhyavandhanam / Thiruvaaradhanam (for eligible students), story telling, basic tamil and basic sanskrit classes.
Please click here for more details.
Blogs
We are launching this new series to convey basic information on our sampradayam in easy to understand format. Check out the postings:
1-NOV-2010 - Three Minutes - ASR (updated)
26-MAY-2010 - Sri Bhashyapuram - Sadagopan
16-MAY-2010 - Akshaya Thriteeyai - Sadagopan
Text
Sri Matam Publications
Books
Divya Prabhandam (1st 1000)
Divya Prabhandam (2nd 1000)
Divya Prabhandam (3rd 1000)
Divya Prabhandam (4th 1000)
All 4000 in zip format
This is no longer available. Pl download individual files.
Sri Desika Prabhandam