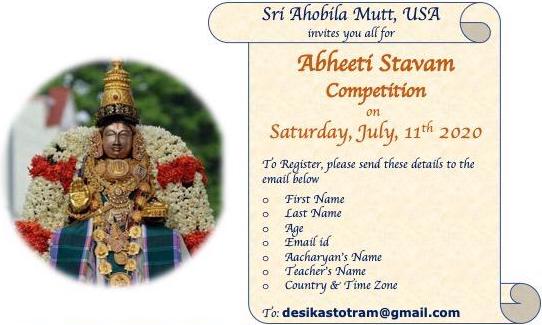 With our Srimad Azhagiyasingar anugraham, we are conducting Abheethi Stavam Recitation Competition on July 11th, 2020.
During the muslim invasion in Srirangam, Utsavams for Periya Perumal (Moolavar) were stopped and Nam Perumal (Utsavar) was taken to vadanadu for safety. At that time, Swami Desikan composed Abheethi Stavam to ward off the fear in Srirangam and prayed for the reunion of Nam Perumal with Periya Perumal and to resume the utsavams at Srirangam.
Our Srimad Azhagiyasingar gave a niyamanam from Thiruvallur Veeraraghavan Sannidhi to recite Abheethi Stavam every day to ward off the fear of the current pandemic situation and restore normalcy in temples so that we can have Permual, Azhwars and Acharyas sevai. Our Srimad Azhagiyasingar also gave niyamanam to teach our children and have them recite it as well.
Keeping this in mind and in order to encourage the kids to learn and recite Abheethi Stavam all over the globe, our Sri Esayanoor Swami (Sri Sannidhi Aaradhagar) directed us to conduct a recitation competition on Abheethi Stavam in conjunction with our Srimad Azhagiyasingar's thirunakshatram.
We request you all to encourage your students / children to participate and get the blessing of Srimad Azhagiyasingar and Malolan.
Pl see flyer for more details about the competition and register by sending an email to desikastotram@gmail.com.